HAVASU FALLS
Havasu Falls, or Havasupai, is paradise on earth. This is a hidden Arizona treasure that for many is a once in a lifetime opportunity. Since 2010, BGWild has successfully led numerous trips to Havasupai, navigating the reservation system and guiding guests to this magical place.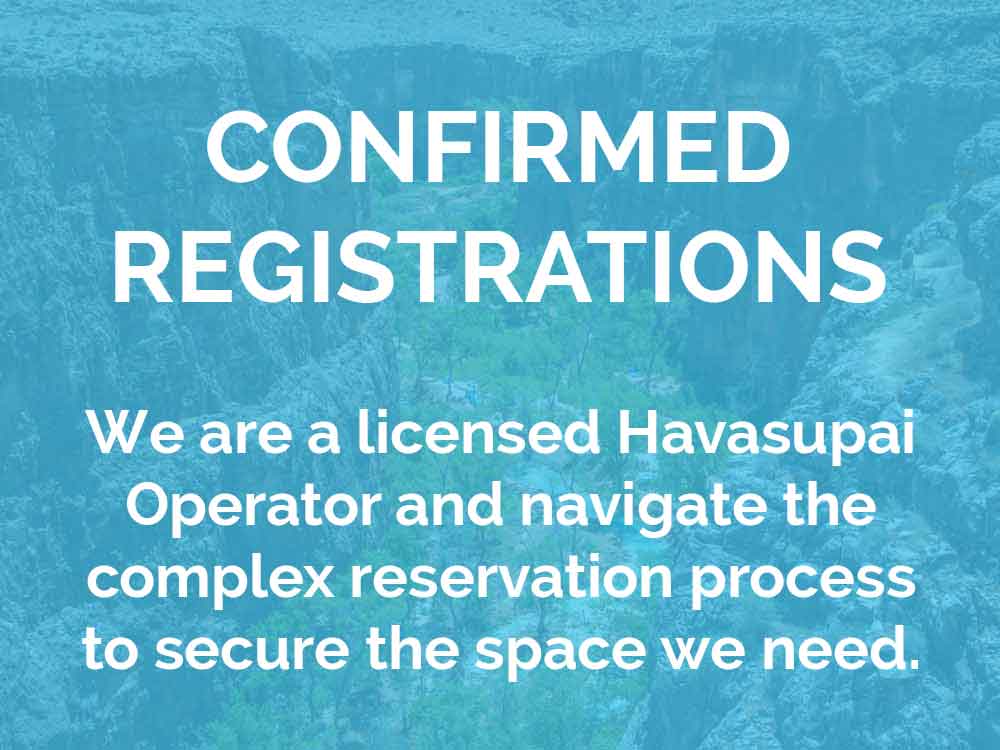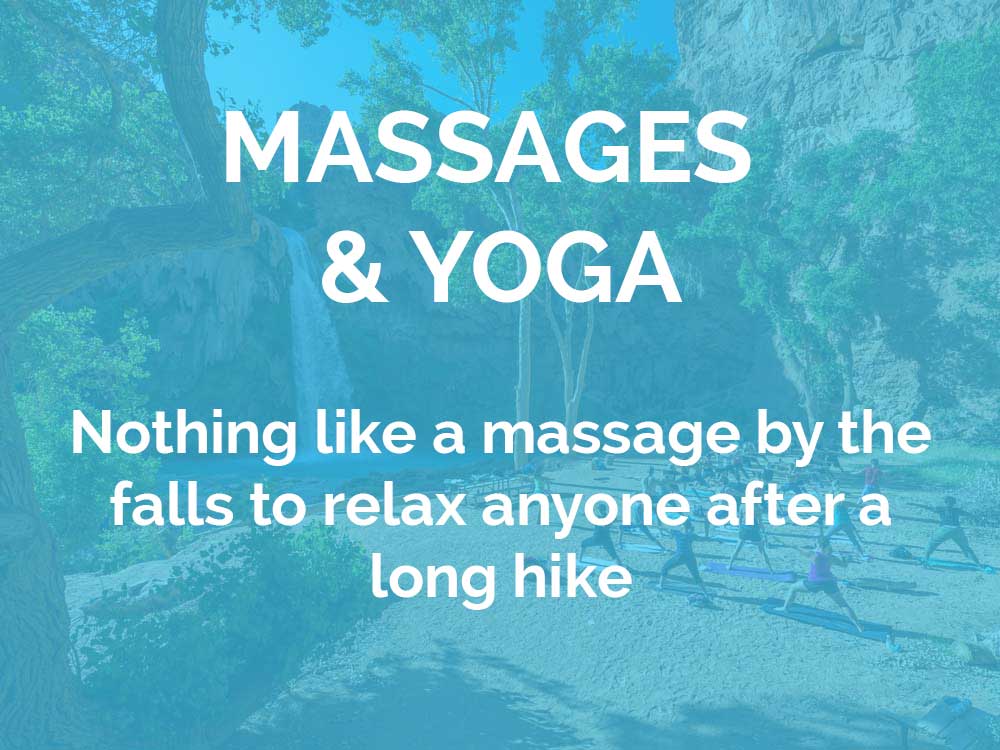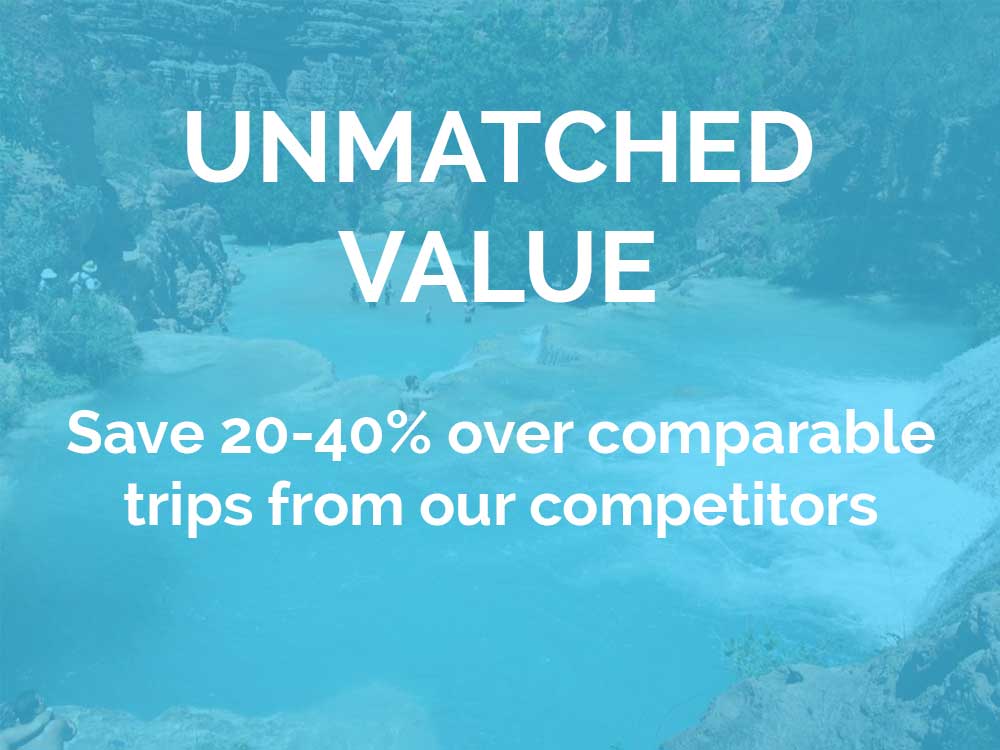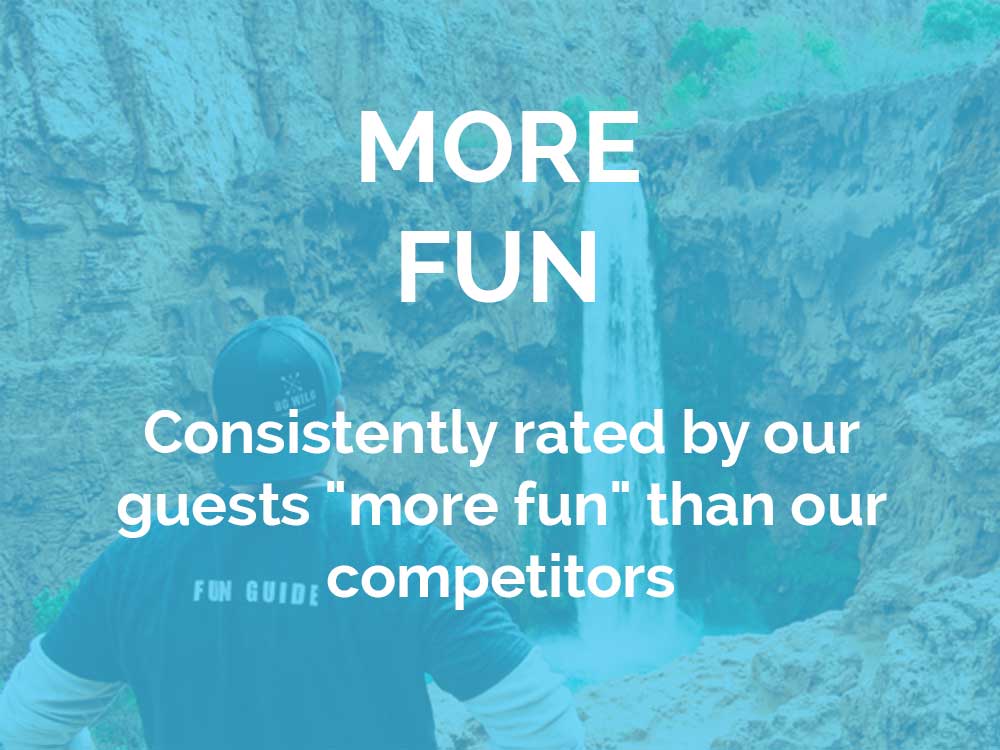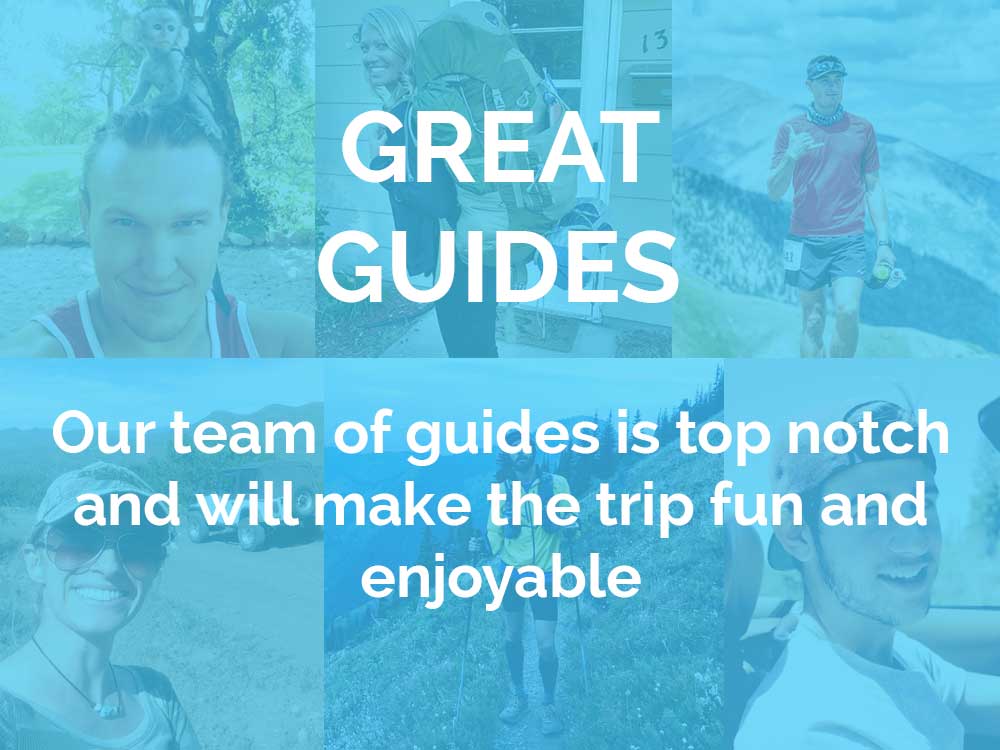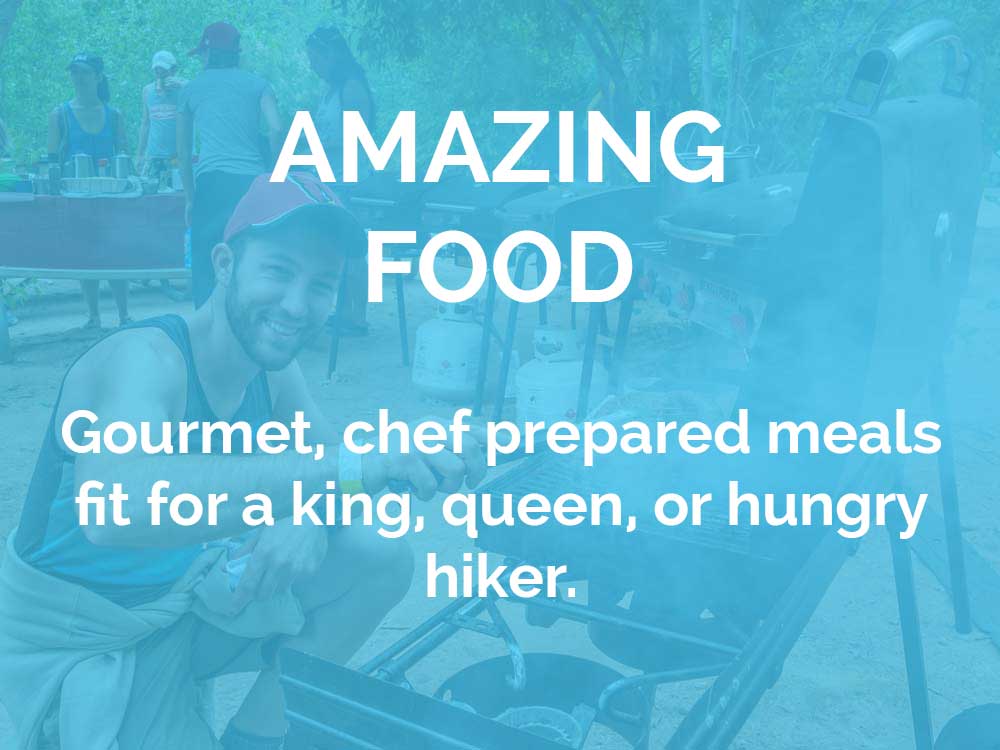 HAVASUPAI FALLS TRIP GALLERY
DON'T TAKE OUR WORD FOR IT. . .
READ THESE REVIEWS FROM OUR GUESTS
"I've been on two trips with BG Wild…I almost didn't go on the second one because the first trip was so amazing – I didn't want to taint the memory – and then the second trip was unbelievably more amazing than the first one!
As a single mom I was able to spend valuable one-on-one time with my oldest son. Because BG Wild brings all the food, (not my forte), my son and I gladly pitched in with dishes. We got an amazing experience and ate like royalty in one of the most beautiful places on earth!
The group atmosphere was wonderfully set in place by fun, helpful, and kind leaders!
I can't stop gushing about this trip to family and friends…I've traveled all over the world and this trip is top three next to backpacking through Europe and Australia!!"
"There are times when you see pictures and read articles on the internet, but the experience just does not match your expectations…but this is definitely NOT the case with Havasupai and BG Wild!!! The views are truly unforgettable, and make the 10-mile hike in totally worthwhile! To say the tour guides are "hard-working" would be an understatement and does not begin to give them the credit they deserve. They packed seven incredible waterfalls and multiple landscapes into one short day, still having time to cook multiple meals for all the hikers. Not sure if those two guys even sat down to rest their feet. When it came to meal time, they didn't just boil water and drop in some MRE packets, these were full meals with plenty of food for second helpings; and I don't think my coffee cup was ever empty!!! If you are thinking about visiting Havasupai, stop thinking NOW and book with BG Wild, disappointment is NOT EVEN AN OPTION!"
"Felt like I was with life long friends even though I didn't know anyone before the hike. The guides were that awesome."
"I have wanted to hike Havasupai Falls for years but was unable to get a permit. Now I know why – I was meant to hike with BG Wild for a thoroughly enjoyable, smart and comfortable trip. I can't wait to go again."
"This trip exceeded my expectations. Daniel was an exceptional guide and made the trip so much better with his enthusiasm and local knowledge. Also, the group we had couldn't have been better."
"Havasu Falls, or Havasupai, is rightfully known as "Heaven on Earth" and Daniel from BG Wild is the Commander in Chief you want guiding you through this magical kingdom!"
"BG Wild's Havasupai experience and staff exceeded my expectations. Comfortable, enjoyable and adventurous! Epic trip!"
"If anyone wants to go to Havasupai without worrying about the impossible booking situation, these guys are amazing. We ran into them while we were down there, and they let us bum some amazing food! Not often you get to eat steak and salad while backpacking. They also apparently give their guests guided hikes, yoga, and massages. Omg I was so jealous!!! Thanks again guys for letting us join your group for the night."
Christine Joy
"We loved this trip!! My wife and I brought our two kids (10 and 8). Everything was so well organized and the food was amazing!!! We felt like we were in our own private paradise camping down there by the river. I would highly recommend BG Wild!"
"The trip was fantastic. I was a little bitter about having to book a trip to get into Supai after three of us calling for two weeks on redial to try and get reservations through the tribe. I found BG Wild online and they are 1/2 the price of all the other companies. It turned out it was even better than doing it on our own. Joshua and Daniel were incredible guides and cooks. When I visit again I'll skip the Supai reservation line and go through BG Wild."
"This was one of the most rewarding experiences I've ever had. Just when I was getting tired of walking, I see Havasu Falls! Then I was re-energized and excited for the rest of the weekend! Going with guides to the other falls was great because they knew exactly where to go, how long it would take, and what to expect as far as distance, difficulty, and getting wet, etc. Food was amazing, I can't think of a better outcome, this was SO worth doing!!"
"My friend and I were very glad we chose to go with a guided hike from BG Wild. We loved the food, the yoga, the massage, our guide Daniel, and how special the trip felt. Our guide was fun, knowledgeable, and a great cook. The hammocks around camp were awesome to rest in. Would definitely recommend a trip with BG Wild!"
"BG Wild kicks ass! I'll recommend you guys to everyone I know."
"If you have seen the pics of the turquoise waterfalls on social media and thought to yourself "I gotta go there sometime"… or maybe even added it to your bucket list, do yourself a favor and book your trip with BG Wild. They take care of everything from permits, to amazing food, and most importantly knowing how to get things done in Supai at the bottom of The Canyon. The guides and the people they attract to their trips will make all the difference…They will make your great Havasaupi trip phenomenal."
"Havasupai is a magical place! I'm not sure we would have made it to all the cool spots if our guide, Daniel, wasn't there to show us the way. He was very knowledgeable about the layout of the land, village, locals, and had some good hiking tips. The staff was friendly and laid a back but constantly working to ensure we had anything we needed for a good time. The food was delicious and plentiful. Our days were packed full with hiking excursions, climbing, swimming and getting to know the other people in our group. If we ever return we will definitely book with BG Wild again! Thank you for the experience of a lifetime!"
"BG Wild provided the "Taj Mahal" of backpacking for us! Can't recommend them enough! Great guides, great food, wonderful experience! Thank you so much Mikey, Daniel, and Cole! Can't wait for our next adventure with you guys!"
Eileen Rafters
"Our trip to Havasupai was a trip of a lifetime. The views climbing into the canyon and meandering to the village and camping site was something everyone should do at least once. The waterfalls were even prettier than the pictures I had seen online. To see them in person was breathtaking. BG Wild did a fantastic job coordinating the trip from permits, to bag delivery, to meals. The unique culture around the campsite was surprising. Everyone in the group pitches in to do food prep, serve meals and clean up. I met people from all over the US that I wouldn't have met otherwise. I highly recommend this trip for anyone wanting an adventure that they won't soon forget."
"Best hiking and camping, great people, helpful and accommodating guides. Beautiful time!"
"Put simply, this was an amazing trip! Our guides (Josh, Kayla, and Cole) were phenomenal, the food was very good, and of course the canyon and falls are beautiful. We will be back next year."
"I am not a "camper" but totally enjoyed the experience and would even do it again! Whaaaat!?!?! Josh, Kayla and Cole were AWESOME and made us feel right at home! They are exceptional at what they do and I hope they continue to share this experience w/others for years to come!"
"After attempting the difficult process of getting a permit on my own, I decided it would be best to go through an outfitter. I'm so glad I found BG Wild. Our "fun guides" were amazing and showed us so many awesome things I might have otherwise missed had I not gone with the group. They were also extremely inclusive, which helped the entire group really enjoy their time together regardless of age. Further, thanks to BG Wild, I knew what to expect when packing and preparing for the trip in general. It was great to have delicious food made for us rather than worrying about packing food and cooking materials in an already heavy pack. I could not recommend BG Wild more highly and hope to travel with them again in the future!"